This Beef Burrito Casserole is totally customizable and can include all your favorite burrito or nacho toppings. 
 Anything you like in your burrito or on your nachos can be incorporated into this casserole.

You can use any type of cooked meat you have on hand (rotisserie chicken, pulled pork) or even go meatless. You can add in corn kernels, jalapeños, a drizzle of taco sauce, black olives, or maybe some chiles. The leftovers reheat well, so you can eat well all week. And, if for some reason you don't devour it all within a few days, you can freeze a couple of portions for later.
For even more mouthwatering deals check out this week's deals in the Handy Foods sales flyer
Beef Burrito Casserole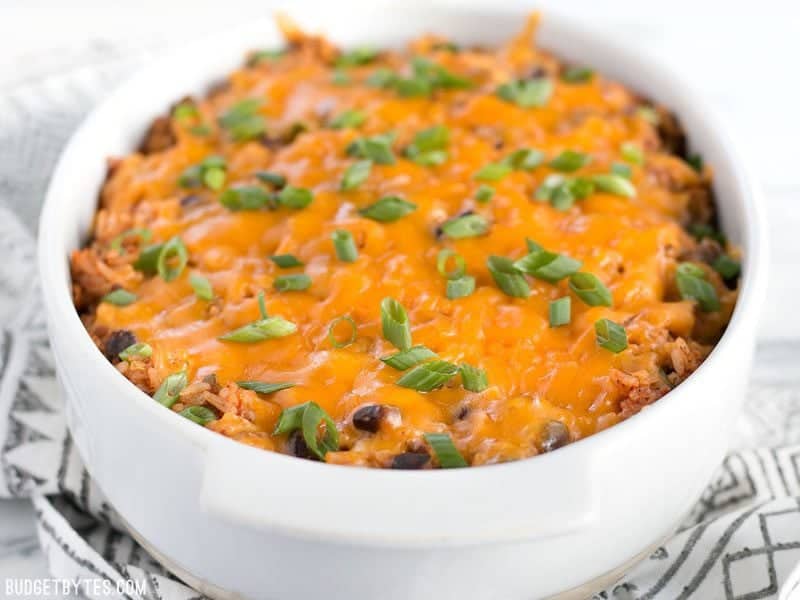 INGREDIENTS
1 Tbsp cooking oil
1/2 lb. ground beef
1 clove garlic, minced
1 pinch salt
4 cups cooked rice*
1 15oz. can black beans)
1 16oz. jar salsa
4 green onions, divided
1/2 Tbsp chili powder
4 oz. cream cheese
1 cup shredded cheddar
INSTRUCTIONS
Preheat the oven to 350ºF. Add the cooking oil, beef, garlic, and a pinch of salt to a skillet. Cook the beef over medium heat until fully browned. Drain the excess fat, if necessary.

Rinse and drain the canned beans in a colander. Slice the green onions. Add the beans, half of the green onions, cooked rice, browned beef, salsa, and chili powder to a large bowl. Stir to combine.

Coat a 3-quart casserole dish with non-stick spray. Spread half of the rice and beef mixture into the bottom of the casserole dish. Add small dollops of the cream cheese evenly across the surface, then cover with the remaining rice and beef mixture.

Cover the dish with foil to prevent the rice from drying out while baking, and bake for 25 minutes in the preheated oven. After 25 minutes, remove the foil and top with the shredded cheddar cheese. Bake for an additional 5-10 minutes, or until the cheese is melted. Top with the remaining sliced green onions just before serving.
NOTES
*This is a great use for leftover cooked rice. Chilling the cooked rice before using it in the casserole helps keep it from becoming sticky or gummy while incorporating it in with the other ingredients.