Yes, we are in for a long cold polar vortex sort of week, so let's warm up with some stew.
 This e
asy, rustic Italian Beef Stew is made right in your crockpot or slow cooker! Only a few minutes to prep this comforting meal.  This is a pretty basic recipe so don't be afraid to add your own personal twist to it!
Make sure to check out the Handy Foods Sales flyer this week too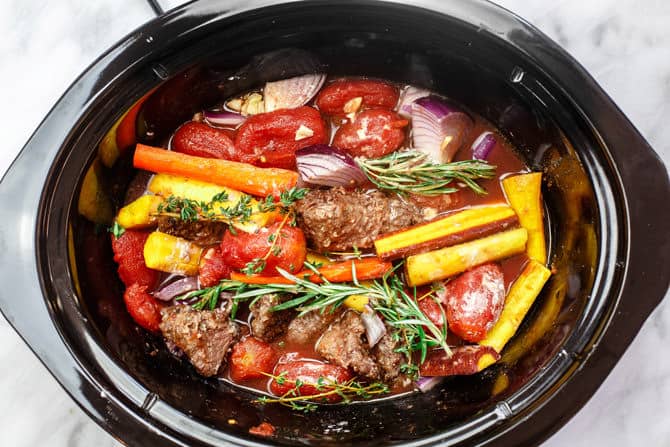 Rustic Crockpot Italian Beef Stew
3/4 cup

 all-purpose flour

1 1/2

  tbsp garlic powder

Salt and freshly ground pepper

1 1/2

 lb beef chuck roast, fat trimmed, and cut into roughly 1 1/2 inch cubes

 extra virgin olive oil

1

 large red onion, cut into large pieces

6

 garlic cloves, chopped

4

–

5

 large  carrots cut

 into large pieces

1 cup

 red wine

2 cups

 vegetable broth

28 oz

 can whole peeled tomato

4

–

5

 sprigs of fresh thyme

2

 sprigs of fresh rosemary

16 oz

 white mushrooms, cleaned and sliced
---
Mix the flour and garlic powder together.

Pat the meat dry and season with salt and pepper. Dredge the meat into the flour mixture to coat.

In a large cast-iron skillet, heat 2 tbsp olive oil. Brown the meat deeply for about 3-4 minutes on each side; crust should form. Remove from heat.

Now, place the browned meat in the bottom of a large crockpot. Add the remaining ingredients 

except for 

the mushrooms. Stir with a wooden spoon.

Cover the crockpot and cook on high for 4 1/2 hours. Add the sliced mushrooms. Cover and cook for another 30 minutes or so.

Enjoy with your favorite Italian bread 
: Do not spend too much money on your cut of beef used for this recipe. An inexpensive beef chuck roast is the best option. As it cooks slowly, the meat's connective tissue breaks down to tender perfection.  If you check your stew and find that the meat is chewy, it simply means that it needs some more time to cook.